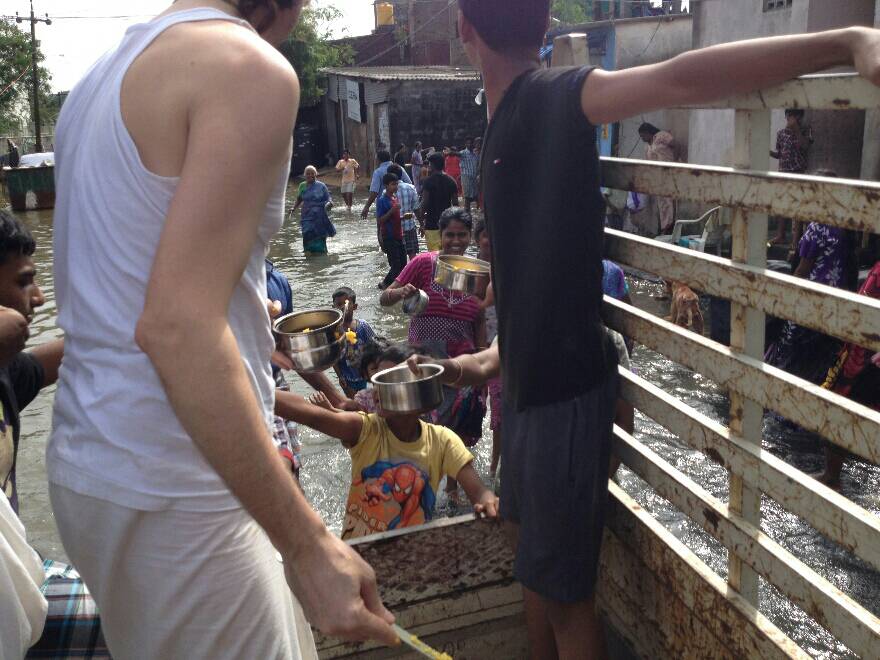 Dear friends and devotees,
This week the city of Chennai was hit with severe flooding which resulted in most of the city being inaccessible. Our ashram is located in the south of Chennai at Tharamani, which was also heavily affected by the floods. For the last 5 days there has been no electricity, and food and drinking water were hard to come by.
To make it worse, there was a near complete failure of all cell phone towers and ATMs, and all roads leading into the city were submerged, blocking delivery of essentials such as water, milk, vegetables and food. We heard rumours of water bottles being sold for 150 rs. each, but even those were nowhere to be found.
With the help of some local devotees we immediately began cooking and distributing large pots of sambhar rice to the areas around our ashram. Since banks had completely shut down even getting money to buy groceries to cook was difficult, but some local devotees helped out and provided the initial money to purchase supplies. Some other shops agreed to provide us rice and dahl on credit.
We were lucky that our water tanks were full just before the electric systems failed, as this allowed us to continue cooking for all of the days. We would also keep our large cooking pots on the roof to catch rain water at night, and the rain was so heavy they would fill up in an hour.
We have been cooking 4 or 5 large pots of sambhar rice each day, distributing some in front of our ashram and some in different localities when ever a vehicle is available. The rains have started to subside, and today for the first time they have restored electricity in our area for a few hours. This will help a lot as our main worry was shortage of clean water, and now we can pump water from our borewell.
The main roads have begun to dry, but most of the interior residential roads are filled with water. In some areas near Tharamani railway station the water is still too deep for anyone to try to enter even for relief work. We plan to continue cooking and distributing food this entire month, as many people will find it impossible to get cooking gas, water, food, etc. In addition to this many people will be unable to work or earn a living for some time.
We request those of you able to help to please contribute towards this relief work. Below are some pictures of the relief work we have been carrying out over the last few days. We are continuing this every day now as long as supplies are available.
Yours in service,
Jahnava Nitai Das
One Time Donation for Chennai Flood Relief:
---
Monthly Donation for Chennai Food Distribution: